Our Porters

Porter welfare is crucial to Llama Path's values and philosophy. We understand that well-treated porters are essential to providing excellent service, and ensuring you have a great trek. We provide good quality equipment, uniforms, a fair and legal wage, and insurance for all our porters. This ensures their well-being, as well as the well-being of their families and the communities they come from. The root of our social commitment comes from the Inca concept of Ayni. Ayni is the idea that if you give something with no expectation of receiving something in return, the person who benefits will one day be in the position where they can give to someone else, so the whole community benefits.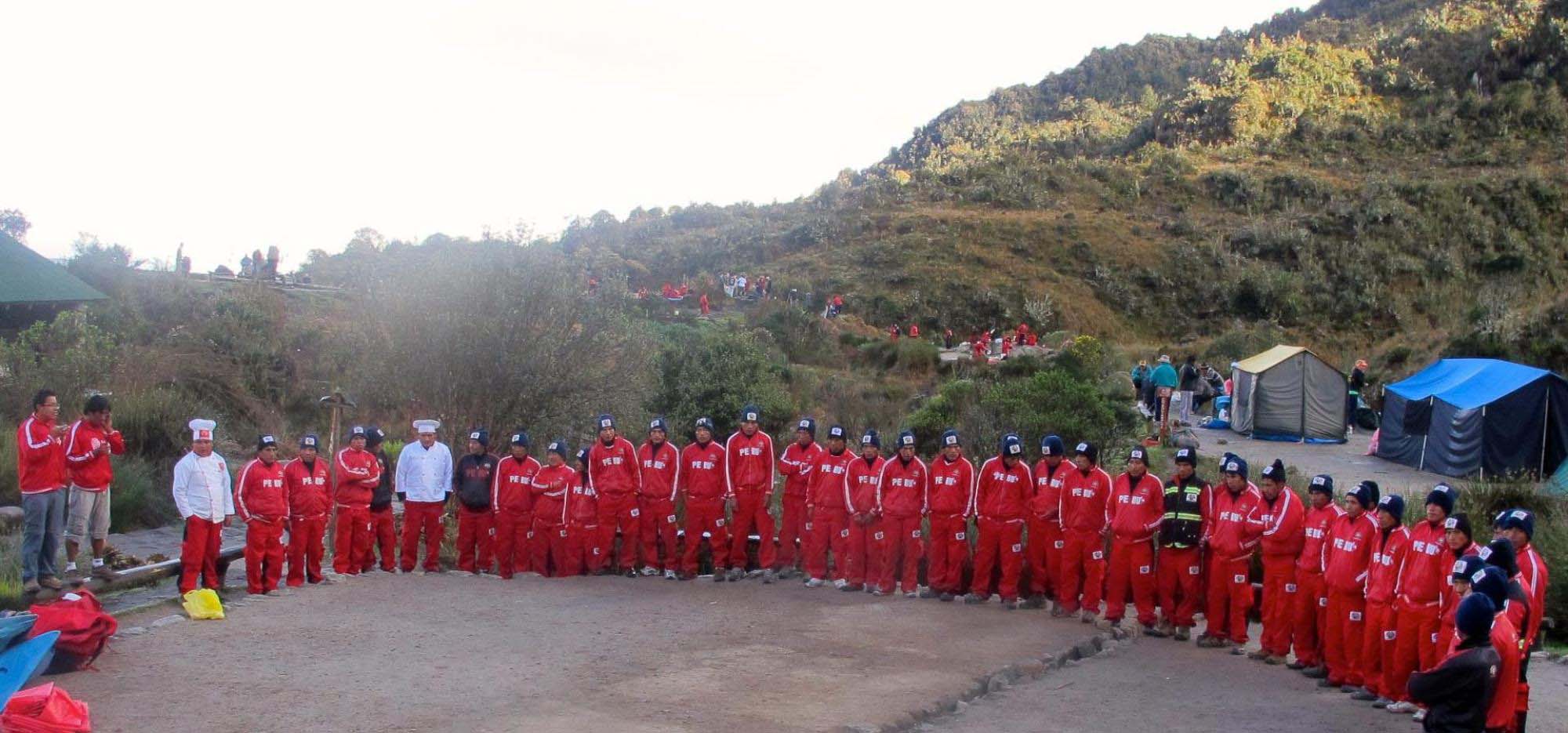 Fredy
Fredy is our head porter, and is in charge of making sure that all our porters are well-equipped and properly looked after, so they are fit and ready to head out on the trail whenever required. Fredy is one of the longest standing members of the Llama Path staff, having worked with Jose right from the outset, and is a crucial member of the team. Although as a guest you probably won't meet him, Fredy is always there in the background making sure your tour runs smoothly.
Our Chefs
Our chefs are, quite literally, culinary geniuses, able to whip up some of the tastiest food you'll have on your whole trip. In isolated enviroments and harsh conditions, the delicious food they prepare will never cease to amaze you.
The food on Llama Path treks is a mixture of traditional Andean food, alongside western style dishes. We can accommodate any dietary requests, including vegetarian and vegan meals. We assure you that you will not go hungry, and will have plenty of sustenance and energy throughout the trek.
See what our guests say about our chefs:


Jorge: The food was fabulous and plentiful. Three course meals were provided at lunch and dinner. They accommodated two strict vegetarians and one person who was gluten and dairy free in our group of six. There was pumpkin, quinoa and potato soups, a two layer chocolate cake, pudding, platters of food (3-4) each meal. I only ate breakfast one of the 4 days and one dinner of the 3 days because lunch was more than enough food for me.
Carmelo: Every time we got to the camp for lunch or dinner, he had snacks and drinks ready for you. The food on the Inca Trail was by far the best food of my vacation. The food was delicious and there was so much, we were all amazed how Carmello the cook and one assistant, could cook all this on a camping stove and carry everything too.
Dennis: We had a fantastic time on this trek -partly because of the incredible food from Dennis the chef and his assistant - all three and four course meals with plentiful snacks. I'm lactose intolerant and they catered for my needs perfectly, even creating an amazing dairy free chocolate fudge cake as a surprise.
Melchor: I'm still dreaming about the amazing food Chef Melchor and his team were whipping up.
Santos, the cook, and the horsemen went ahead to set up camp for us, and cook us the most amazing meals – 5 course, restaurant quality meals with the freshest ingredients. and they also cater to anyone who has food allergies or specific diets.
Sebastian, the food! Gourmet meals on the trail? Yes please! Our chef Sebastian was a "magician in the kitchen!" We ate some of the best meals while on the trail!
Cesar: The food was amazing (especially for being in the middle of no-where)! Lots of meat, potatoes, rice, vegetables. They even made breakfast omelets, and pizza once. This is a trip of the lifetime and this is the company to go with ! :)
Cirilo: The camp chefs also were amazing! I had no idea such a variety of foods could be carried up the trail, prepared and cooked, all at the camp site. We dined on everything from fresh soups to Peruvian meat dishes (vegetarian options were provided as well) to pizzas and yes...even cake! How they pulled this off, I still don't know. And there was plenty of food to go around. I was stuffed after every meal. The hot water and coca tea at our tent every morning also was a nice touch.
Apolinar: The meals were among the best we had anywhere in Peru. We ate very well.
Balvino: Our chef Balvino made sure we did not go hungry, and constantly fed us AMAZING food. I will 100% over and over be recommending this company to my friends and family.
Our Porters - The Red Army


Our porters are a real mixed bunch, but the one thing they all have in common is their dedication and love of their job. From hardened Inca Trail veterans in their 50's, through to novices just starting to grow their first beard, you'll find a whole variety of characters and personalities throughout our team. After carrying 20kg of gear, over mountain passes and through driving rain, you'll find the porters are still full of energy, and it's not an uncommon sight to see them having a game of football at the end of a hard days walk.
See what our guests say about our porters:


"The porters not only carried so much equipment, but they were there cheering us along the whole way. Llama Path really treats the porters with respect and that is important to me." (Dana)

"Additionally, we were shown how well Llama Path treats its porters. This was something I hadn't considered as part of my decision to go with this company for our trek. They provide their porters with uniforms, higher pay than what is standard, meals, and even a place to live. We were told that sustainable tourism and treatment of staff is a cornerstone of Llama Path's mission. I'm glad we supported this with our business." (James)

"The porters were incredible and made sure our camp was always ready for us, along with water and anything else we might need. It was evident Llama Path as a company, and the employees, all care a great deal about them, and make sure they are treated really well." (Meghan)

"On the way to the beginning of the trail, we stopped at the porters' house to pick them up. This is a place that Llama Path built for the porters, so they have a place to stay while they're working, instead of having to commute from their home towns. Coco gave us a tour of their quarters, and also showed us the school above the porters' house, that Llama Path built for local children that can't afford to go to school." (Daria)

"We highly recommend our tour operators Llama Path, who not only looked like the most professional outfit on the trek, but who also ensured all their amazing porters had suitable hiking boots and warm clothing. The lovely men always managed a smile or a friendly wave as they toiled their way up the hills with our heavy load." (Gwyn)

"It was evident that some of the other tour companies found ways to overload and underprepare their porters. Not with Llama Path. They also provide a house that the porters can stay at for free in between treks." (Anna)

We care about our Porters as much as we care about our Tourists!