An unforgetable journey - 13 days / 12 nights !


Monthly set departures:

April: 9th, May 15th June 15th, July 15th, August 15th, September 15th.

Maximum group size 18 people.

Scorted Tour & Own Llama Path most comfortable tourists bus!


This 13 day holiday takes you to Peru's most amazing attractions; lfy over the Nazca lines, enjoy the wildlife on the Ballestas Islands, take a boat trip on the highest navigable lake in the world (Lake Titicaca) and visit the majestic floating islands, travel to the Colca Cannyon to see the majestycs Condors soaring over the deepest canyon in the world and to top it hike the Inca Trail (or an alternative trek) to see Machu Picchu, the lost city of the Incas!


Paracas and the Ballestas Islands - Close to the town of Paracas lie the Ballestas Islands, Peru's Galapagos. The Ballestas are home to large colonies of birds as well as sea-lions and attract nature enthusiasts visiting Peru.


Nazca - the Nazca lines are a popular destination for tourists seeking the esoteri side of Peru. Many theorise that they were built by aliens or an advanced civilisation due to the fact that they are only visible from the air, whoever built them they are impressive. The Nazca Lines include images of animals such as hummingbirds, monkeys, fish etc as well as the 'Spaceman' and geometric patterns.
Arequipa - with an impressive colonial center built from the white volcanic rock that is found in the area there are a variety of things to do whilst in the city such as visit the Santa Catalina Monastery or the museum where the Ice Mummy 'Juanita' is kept. The main attraction of the city is the nearby Colca Canyon where it is possible to see condors soaring on the thermals.
Puno - people visit Puno for Lake Titicaca, the world's highest navigable lake and home to the Uros people. The Uros people have lived on floating islands that they construct from reeds for generations, possibly as far back as Inca times and it is this unique culture that attracts people to the area. A boat ride on Lake Titicaca is an unforgettable experience, visiting the floating islands as well as the islands of Amantani and Taquile you see a side of Peru that is all but lost.
Cusco - the old Inca capital is the main destination of everyone's trip. Sat at 3300m / 10,827ft. above sea level, Cusco has a unique charm and provides an interesting mix of Andean and Spanish cultures. Filled with ancient Inca sites and colonial buildings sat alongside modern restaurants and upmarket cafes, Cusco has a little something for everyone.
Machu Picchu - the lost city of the Incas is a short train journey from Cusco. Surrounded by breathtaking mountain scenery and with some of the most impressive Inca buildings ever constructed, Machu Picchu iss the highlight of Peru.


The very best of Peru - Timetable



Day 1

Time

*Notes




Lima (Departure)


06:00

Paracas (Arrival)

10:00

Ballestas Islands tour

11:00

2 hours tour

Lunch (*not included)

13:00

1 Hour free

Paracas National Reserve tour (*privado)

14:00

3 hours tour

Paracas (Departure)

17:30

Nazca (Arrival)

21:00


Day 2


Time


*Notes

Nazca Lines overflight

/

1 hour overflight

Nazca (Departure)

19:00


Day 3


Time


*Notes

Arequipa (Arrival)

06:00

Campiñas

09:00

City Tour

14:00

3 hours tour


Day 4


Time


*Notes

Canyon tour

08:00

2 day / 1 night tour


Day 5


Time


*Notes

Canyon Tour

2nd day of tour

Chivay (Departure)

16:00

Puno (Arrival)

22:00


Day 6


Time


*Notes

Lake Titicaca

08:00

2 day / 1 night tour


Day 7


Time


*Notes

Lake Titicaca

2nd day of tour


Day 8

Time

*Notes

Puno (Departure)

07:30

Pukara

09:30-10:00

30 min tour

La Raya

11:10-11:20

15 min tour

Sicuani

12:30-13:15

45 min Lunch

Raqchi

13:30-14:10

40 min tour

Andahuaylillas

15:20 -16:00

30 min tour

Cusco (Arrival)

17:00

Please Note: Times may change.


Fly back to Lima.


Bolivia and the Salar de Uyuni.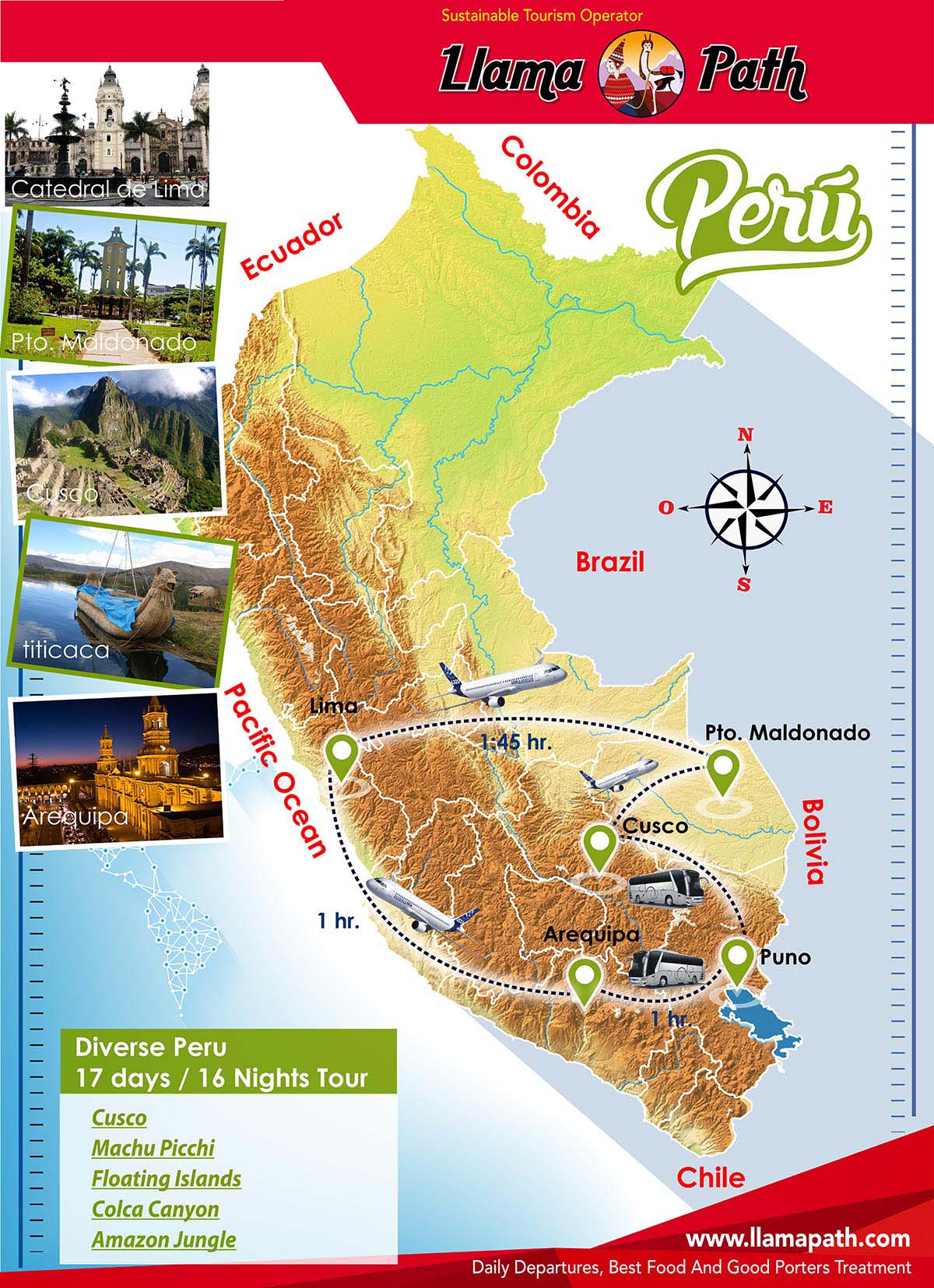 Travel in Peru: Llama Path operates in regions where standards of accommodation, transport and services might not be those you would normally expect. However we strive, with all due care and skill, to provide the best services for our tourists. Travelling in Peru requires flexibility, patience, broad-mindedness, good humour and understanding that changes may be made without notice due to circumstances beyond our control (Force Majeure - see below). By booking any of our tours you agree to Llama Path making necessary changes without liability.
FORCE MAJEURE: This is any event that Llama Path could not, even with all due care, foresee or avoid. This covers events such as war or threat, riot, civil strife, terrorist activity, industrial dispute, disease, disaster or adverse weather conditions, fire or all similar events beyond our control. In this case, Llama Path will not accept liability and reserves the right to change, postpone or even cancel the trip (this is the last option of course!).
Increments in Case of Protests, Strikes (FORCE MAJEURE): In the event of a protest / strike, which is not uncommon in Cusco, it may be necessary to leave a day or even 2 days earlier than scheduled so that we are able to comply with other services. In this case, an increment will be charged to cover costs incurred.
Risks: By booking any of our adventure trips (Inca Trail to Machu Picchu, Salkantay, Ausangate, Choquekirao, Lares, Vilcabamba, Ausangate, Cachicata trek etc.) you assume the risks associated with them. For these Llama Path accepts no responsibility.
Travel Insurance: We strongly advise you to take out travel insurance that covers accidents, medical expenses and emergency repatriation, including rescue and air ambulance. We also recommend that it covers cancellations and loss of luggage. Please forward a copy/ company name and policy number by email or bring the information when you come to our office.
Group Discounts: If there are at least 4 people in your group, you will get a $20 per person group discount a f This discount is valid for the following adventure trips: Inca Trail 4/3 group service, Lares 4/3 and Salkantay 5/4. Please note that this discount does not apply to private treks or any other trek not mentioned here.

Note: discount does not apply if less than 4 people undertake the trek (if a group member cancels).
Holiday or Election Increments: An increment of *$35 per person is applicable for all treks (regardless of group / private option / size of group) leaving during these holidays: Christmas (Dec 22nd, 23rd, 24th, 25th) New Year (Dec 29th, 30th, 31st, Jan 1st).

An increment is also applicable in order to leave during election days (people are fined in Peru if they do not vote).

We use the increments to pay staff a bonus for leaving on their holiday or it is used to pay the fines.
Sending your main Departure date and back up date: By providing us with a main date and a back up date for your trek (classic Inca Trail, Lares, Salkantay, etc) you automatically authorize Llama Path to use either of these dates for your reservation. Llama Path within the next 48 hours (after you have sent us your booking form and confirm deposit was made) will send you an electronic receipt confirming your trek has been officially booked and also to confirm the exact departure date of your trek.
Sending your Personal Details for Booking: Your passport number and other information must be valid. Please advise if you change your passport number after booking the tour (especially for booking the classic Inca Trail as if we do not make a change in your official details, you may not be permitted to do the trek). Please Note changing passports' numbers requires an extra fee (we are able to change passports numbers easily on our receipt but its also extremely important that we make the changes with the Inca Trail authorities) and please is important that the information that you send need to be exactly as appear in your passport.

Student rate: In order to obtain this discount you must have a valid University student card (Maximum age 25 YO) . It is important you scan and e-mail this to us at the time of booking and that it is valid on the date you are booked on the Inca Trail/alternative trek (you will need to show the real University upon your arrival here in Cusco and in Machu Picchu).

About Inca Trail Campsites:

Please note: Campsites may change (be different from those stated in the website) depending on booking time and availability, weather conditions or on restrictions undertaken for safety reasons by the Peruvian Goverment.
Making a Reservation and payment of deposit:

1. For the classic Inca Trails: 2 days, 3 days, 4 days, 5 or 7 days (Group or Private Service) or for any of our Adventure treks to Machu Picchu.

We request a $300 non-refundable deposit per person along with your personal details (full name, passport number, gender, nationality, DOB).

The deposit (Non-refundable) amount is:


Classic Inca Trails:

US$ 300 per person for any of our Classic Inca Trail (2 days, 4 days, 5 days, 7 days). Or
US$ 385 per person for any Classic Inca Trail + Wayna Picchu or Machu Picchu climbing.
Please NOTE: If booking (USD 85.00 extra) a Wayna Picchu or Machu Picchu mountain climbing a 6% Pay Pal fee must be paid f or this (USD5.00).

Please confirm if you want to climb Wayna Picchu (the 45 minute climb near Machu Picchu site) or Machu Picchu as they need to be booked well in advance too; this is US$85.00 per person there are 2 time sessions: 7 - 8am or 10 – 11am – this also needs to be specified although you need to be flexible to either time.

Please note, if you get the permits for either extra climbings you will probably have to miss/skip the Machu Picchu guided tour.


Alternative Inca Trails:


US$ 300 per person for any of our Alternative Treks to Machu Picchu (Huchuy Qosqo, Lares, Salkantay, Cachicata, etc ). Or
US$ 325 per person for any of our Alternative Treks to Machu Picchu (Huchuy Qosqo, Lares, Salkantay, Cachicata, etc ) + Wayna Picchu or Machu Picchu climbing.
Please confirm if you want to climb Wayna Picchu (the 45 minute climb near Machu Picchu site) or Machu Picchu as they need to be booked well in advance too; there are 2 time sessions: 7 - 8am or 10 – 11am – this also needs to be specified although you need to be flexible to either time.
Please note, if you get the permits for either extra climbings you will probably have to miss/skip the Machu Picchu guided tour.
IMPORTANT: Price is based on a DOUBLE room accomodation.
An aditional USD 35.00 will be charged for a Single Room if there's no one else to share a double room with or if you are travelling alone.
Payment of the deposit can be made through any of the 2 following options:
1) Paypal:

NO Transaction fees for Inca Trail and alternative treks tours from January 2nd, 2017 !!

Go to www.PayPal.com and if you have an account, enter your account information (username and password).

Choose the option ´send money´ to: deposits@llamapath.com (IMPORTANT: please ensure you choose the option 'purchase' and 'services'. Do not
choose the option 'personal').

2) By VISA Card.

NO Transaction fees for Inca Trail and alternative treks tours from January 2nd, 2017 !!

Go to the homepage on our website (www.llamapath.com), click on 'payment options' and follow the instructions.

At the end of the transaction, you will have a screen with an order number. Please send an email confirming deposit and the order number you
have been given.

3. Payment for Peru itineraries of 1 to 3 weeks (Incas and Mountains, Peruvian Highlands, Diverse Peru etc). To secure a reservation of a tour package, it is necessary to make a pre-payment of: 50% of TOTAL package cost, the balance must be paid 2 weeks before your tour starts by PayPal.


About the Briefing: The night before your trek there will be a pre-trek talk (briefing) in our office at either 4:00pm or 5:00pm (exact time will be confirmed on your arrival or by email). Your duffle bag will be provided at this time if you have paid for an extra porter for your Inca Trail or if you are doing an alternative trek.

The Local Payment (Payment of Final Balance): We require you to pay your final balance in cash (USA dollars) in our office at least 48 hours prior to tour/trek departure (please advise if you have any delays on arrival).

The Local Payment must be paid in cash and in US dollars.

NOTE: If paying in Peruvian Soles it will be applicable the Exchange Rate of the Day. ( Aprox. 3.40).
Cancellations:
Deposit sent for is Non-Refundable nor transferable to any other date, person or tour (According to Inca Trail and Machu Picchu Regulations).

Llama Path must be notified of any changes or cancellations to your trip as soon as you are aware of them, via e-mail or fax so that we do not incur expenses not covered by deposit.

City Tours and Sacred Valley Tours can be cancelled with a 100% refund up to 15 days before the tour starts; 50% up to a week, 25% lose of deposit less than 5 days and 100% lose of deposit if cancellation is made with les than 48 of notice.

Once final balance has been paid, we will not be able to refund your trek payment in the case of cancellations. There will, however, be parts of your trip that you are able to use (Machu Picchu entrance fee, 1 train ticket, 1 bus ticket).

A claim letter for your insurance company can also be provided by us upon request.

Porter service hired can Not be cancelled (a fee is paid for booking this service).
VERY IMPORTANT (1): We strongly suggest staying at high altitude (above 3000 metres - in Cusco or another high altitude city) for 3 to 4 days (minimum) before undertaking the trip. This is in order to minimize the effects of possible altitude sickness. Also, you can help your body acclimatize by drinking plenty of liquids, adding a bit more sugar to your drinks, eating food rich in carbohydrates, avoiding cigarettes and alcohol and drinking coca (ancient traditional leaf) tea. Diamox can also be helpful - please ask your doctor about this.
VERY IMPORTANT (2): We recommend you arrive in Cusco 48 hours or more before trek departure as we may need to leave earlier than scheduled in case of strikes or other events out of our control (see Force Majeure above).

IMPORTANT NOTICE :
ZERO PLASTIC BOTTLES ON THE INCA TRAIL AND MACHU PICCHU FROM DECEMBER 1ST:
Due to New goverment regulations for the Inca Trail it will be 100% PROHIBITED to TAKE PLASTIC WATER BOTTLES. We believe that in the first days the new enforced regulations may NOT be 100% controlled however as the days go it will be more and more strict therefore WE KINDLY suggest you getting your aluminum plastic bottles to avoid any dissapointment at the check points along the Inca Trail and in the Machu Picchu citadel.
ALUMINUM 0.700ml BOTTLES:
As a way to avoid any inconvenience with our clientes Llama Path offers 0.700ml aluminum water bottles FOR SALE at the office for as liitle as 10 Soles (USD3.00).
Aluminum water bottles can also be bought in many different shops around the main square.
Also, if you are still at home and ready to fly to Peru for your trek we recommend you bringing aluminum water bottles or camel bags.
Some other reasons to travel with Llama Path:
Through this 15 years we have trained and worked with lots of guides, porters and chefs. Now a lot of our staff is exported to other companies; it's not a surprise to ask anyone of them "who have you been working for?" And the answer comes evident: Llama Path.
Moreover a lot of our exguides set up their on companies primarily following the ideas of Sustainable Tourism we have practiced right from the beginning to these days. A few examples here:
Raúl Qolque worked as an assistant and guide for Llama Path for several years and now together with his American wife runs Alpaca Expeditions.
Miguel Góngora; one of our best guides ever runs now his own sustainable company Evolution Treks.
Flavio Huamani, runs a small family responsible company mainly especilizing in Luxury Treks to Machu Pucchu.
Renzo Serrano, runs now his own company Qaypi Tours.
Marco Salas, one of our most enthusiastic assistant guides and guide runs now Happy Gringo Tours travel Agency.
The list could go...
We are happy to know we are doing and leading the right way.
Thanks for choosing Llama Path.

We hope you have a wonderful time with us !!