"Then up the ladder of the earth I climbed, through the barbed jungle's thickets until I reach you Machu Picchu. Tall city of stepped stone, home at long last of whatever earth had never hidden in her sleeping clothes.

In you two lineages that had run parallel met where the cradle both of man and light rocked in a wind of thorms.
High reef of the human dawn. Spade buried in primordial sand. This was the habitation, this is the site! here the fat grains of maize grew high to fall again like red hail..."

(Pablo Neruda, Nobel Prize, Hights of Machu Picchu).


Our Inca Trail Private Service is perfect for families with young children, group of friends and/or honeymooners. With smaller groups you get the full attention to detail of our expert guides and with each trekker having a personal porter to carry 7kg of your gear you can enjoy the trek to the full.
A trek with Llama Path is the best way to get to Machu Picchu, because it allows you to truly immerse yourself in the Incan history and culture, so you really appreciate Machu Picchu when you finally arrive. On this trip it really is about the Journey not the Desination. And all the Llama Path staff will work very hard to make your Journey unforgettable.
The trip is breathtaking, not only because you're at altitude, but because you're smack right in the middle of the Peruvian Andes, and as far as the eye could see there was one peak or ridge after another. After a bit of coca leaves and llipta (ask ypur Guides for) the tangy and bitter taste filling one's mouth, you feel as though you could 'run' to the top of Dead Woman's Pass and back and feel your inner Inca coming out. Our knowledgeable leaders will Guide you the way and our amazing porters (The 'Red Army') race by to set up camp for the coming night, you passed through ancient walkways, ruins, valleys and cloud forests. Llama Path will do every possible effort from start to finish with this trip, from the pre-trek debriefing to all of the transportation to and from, and everything in between. 'Gaining weight' on this adventure trek is likely with the amazing and abundant amount of food available at every meal. Join us now!
Inca Trail Availability

We offer daily departures on the Inca Trail (excluding February when the trail is closed).

It is strongly recommended to book your Inca Trail at least 4 months in advance as permits can quickly sell out.

About Inca Trail Campsites:

Campsites may change depending on booking time and availability, weather conditions or on restrictions undertaken for safety reasons by the Peruvian Goverment.
Useful Information
Starting Altitude - 2720m / 8920ft.

Highest Altitude - 4217m / 13,780ft.

Walking Distance - 45km / 26 miles

Longest Day - Day 2, approximately 16km / 9.9 miles

Coldest Night - Day 2 around 0º celsius

Overall Difficulty - Moderately Difficult to Difficult (depends on your level of fitness and aclimatization)***
4 Day Inca Trail - Private Service Map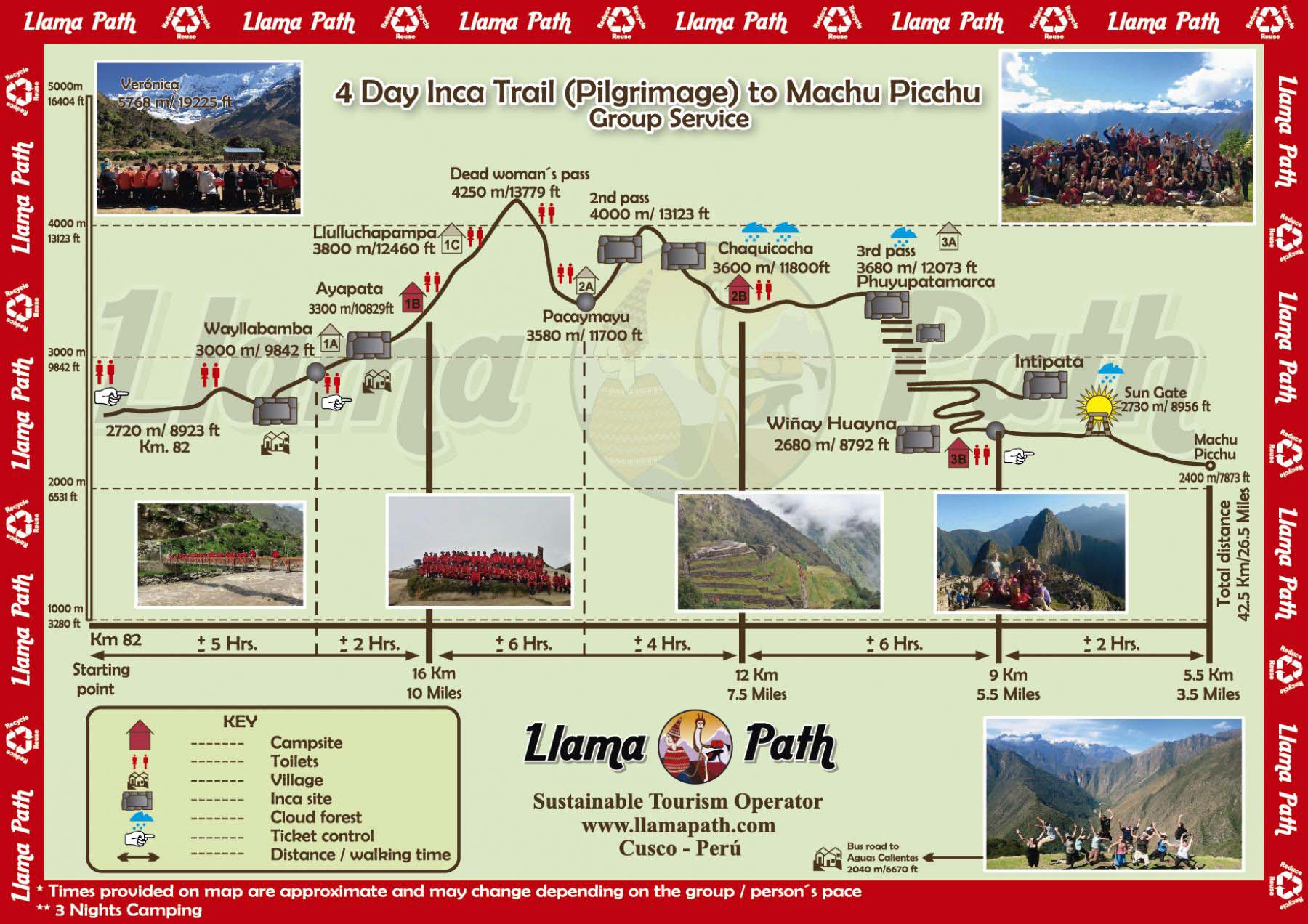 Very Important:

Campsites may vary depending on booking time, weather conditions or on restrictions undertaken for safety reasons by the Peruvian Goverment.